15 Best Arabic Language Learning Blogs and Websites
Follow Top 15 Arabic Language Blogs from one place on Feedspot Reader
The
best Arabic Language blogs
from thousands of blogs on the web and ranked by traffic, social media followers & freshness.
Arabic Language Blogs
Here are 15 Best Arabic Language Blogs you should follow in 2023
The fastest, easiest, and most fun way to learn Arabic and Arabic culture. Start speaking Arabic in minutes with audio and video lessons, audio dictio...nary, and learning community!more
arabicpod101.com/l..
57.2K 3.6K 4 posts / month DA 38 Get Email Contact
If you a learning Classical Arabic, this is a blog you must follow. Posts on Classical Arabic Poetry, learning tips, advice, and great resources for A...rabic.more
fluentarabic.net/blog
2.4K 7 posts / year DA 24 Get Email Contact
Cairo, Al Qahirah, Egypt
This blog is the largest and most rapidly growing, a community-driven database of spoken dialect material for Arabic learners online.
talkinarabic.com/blog
4.9K 372 2 posts / month DA 35 Get Email Contact
London, England, UK
This Blog provides a comprehensive service for anyone who wants to learn Arabic in London. Our tutors are experienced native speakers from all over th...e Arab world. They use a unique range of Arabic learning materials to make Arabic accessible to all.more
londonarabictuitio..
35 30 posts / year DA 20 Get Email Contact
Conroe, Texas, US
Our Arabic blogs are the best source of Arabic and Quran information for you. Get all the Information related to the studies of Arabic and Quran on th...e Studio Arabiya website.more
studioarabiya.com/..
102.4K 1.5K 18.3K 1 post / month DA 29 Get Email Contact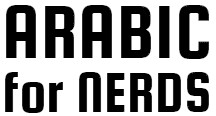 Berlin, Berlin, Germany
Arabic For Nerds is a place for anyone addicted to Arabic. The blog covers the latest about Arabic grammar (nahw and sarf), dialects as well as tools ...and apps for Arabic learners. It features interviews with Arabic experts and fascinating articles about the history of Arabic and Islam.more
arabic-for-nerds.com
4.1K 2.2K 203 1 post / week DA 23 Get Email Contact
Nashua, New Hampshire, US
This Blog brings powerful, world-class language-learning technology to libraries, educational institutions, government organizations, corporations, an...d curious individuals. This blog is our place to share our passion for Arabic language and culture.more
blogs.transparent...
266.5K 10.1K 911 DA 75 Get Email Contact
If you are looking for the best way to learn Arabic online, look no further, the Kaleela Arabic app and website are here!
kaleela.com/blog
314 126 2K 30 posts / year Aug 2019 DA 26 Get Email Contact
Hi, I'm Uchechi. For 3 years in college, I studied Arabic and improved so SLOWLY. I had terrible experiences studying abroad. I almost gave up. Th...en I found that I wasn't the problem. Traditional language learning strategies were the problem. Now I'm soaring! And I want you to know all the things I know now so that you don't give up too.more
marhabtain.wordpre..
2 posts / year Dec 2020 DA 1 Get Email Contact
Jordan
Profound the knowledge of your Deen by learning Arabic. A small step into a huge road. It includes everything from the basic alphabet to grammar, voca...bulary rules, reading, writing and many more.more
learnarabicamman.b..
2.5K 31 1 post / year DA 3 Get Email Contact
Here you will find Resources for learners and teachers of Arabic.
welovearabic.wordp..
210 DA 20 Get Email Contact
Language immersion is the key to learning a foreign language. FluentU brings language learning to life through language immersion with real-world vide...os. Here you will find Learning resources for the Arabic language.more
fluentu.com/blog/a..
515 38 DA 66 Get Email Contact
---
Arabic Language
Bloggers
Top Authors, Journalists, and Publishers covering Arabic Language.
Get Spreadsheet
Load 24 to 100
of 156 Bloggers
---